New Patients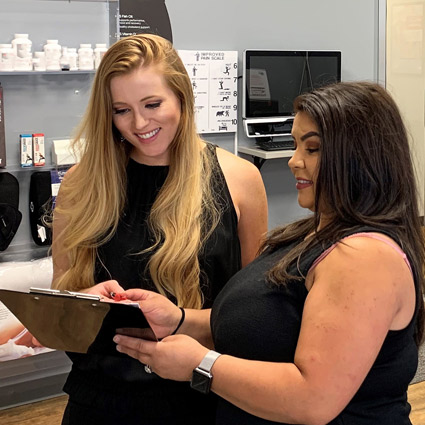 When you walk into Premier Pain Management, you'll love our fun, upbeat atmosphere. Our energetic team is waiting to greet you warmly. We'll have sent you the necessary paperwork ahead of time or you can download it from our website and bring it in completed.
NEW PATIENT FORMS »

Your First Visit
When you first meet Dr. Ryan, he wants to get to know you and make a connection with you. You'll discuss your health history, expectations and goals. Your thorough examination will include
Orthopedic testing
Neurological testing
Chiropractic testing
Muscle testing
X-rays, taken on-site if needed
You may receive a chiropractic adjustment on the first visit depending on the complexity of your case. This appointment takes about 45 minutes.
Your Second Visit
When you return, Dr. Ryan will have prepared a full report of findings for you. You'll go over your examination, X-rays and customized exercise printouts for your particular issue. You'll learn about what Dr. Ryan recommends for your care plan.
Brenda, a member of our support staff, will have checked your insurance coverage and will go over it with you so that you know what to expect.
Follow-Ups
At your follow-up visits, you'll be with us anywhere from 5-30 minutes depending on whether you receive Physiotherapy. You might just need a couple of extra minutes with us, or you may have a longer session with our Physiotherapy technician to suit your needs.
Insurances Accepted
You can use your coverage with any of the insurances listed below:
Aetna
Blue Cross/Blue Shield
Bright Network
Cigna
CoFinity
Humana
Medicare
Preferred One
United Healthcare®
If you have Tricare, Medicaid or Kaiser, we have a third-party discount network program so that your co-pays are comparable. Contact us today to schedule your first appointment!
CONTACT US »

New Patients | (303) 683-6868